Arctic
TransDrift X - Lena Delta - Laptev Sea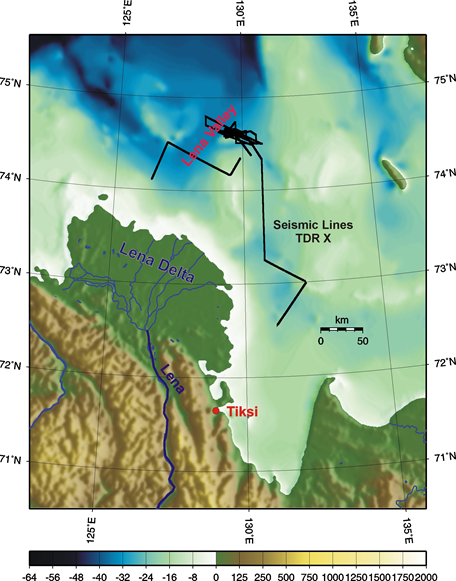 During Expedition TransDrift X, high-resolution multichannel seismic data were acquired on long overview profiles combined with a detailed survey. On the southern shelf, only few intenal features could be images, which seems to indicate the presence of gas. A deep reflector with a distinct relief may be interpreted as former terrestrial landscape. On the westernmost profile, a possible fault zone was crossed, which may serve as pathway for material or fluids/gases.
In profiles across morphological depressions, no erosional features like river beds or channels coudl be identified, which is important for the local temperature history.
In the main working are, 3 different facies types were observed and interpreted:
A distinct reflector of high amplitude was interpreted as top of submarine permafrost, which resembles the thermokarst surfaces on land
To the West, the reflector appear fuzzy, probably due to decomposition of pernafrost in combination with the presence of free gas
To the East, in a shallower depth, a stratified unit is present, which may represent a sandbank and a former now eroded ice-complex island.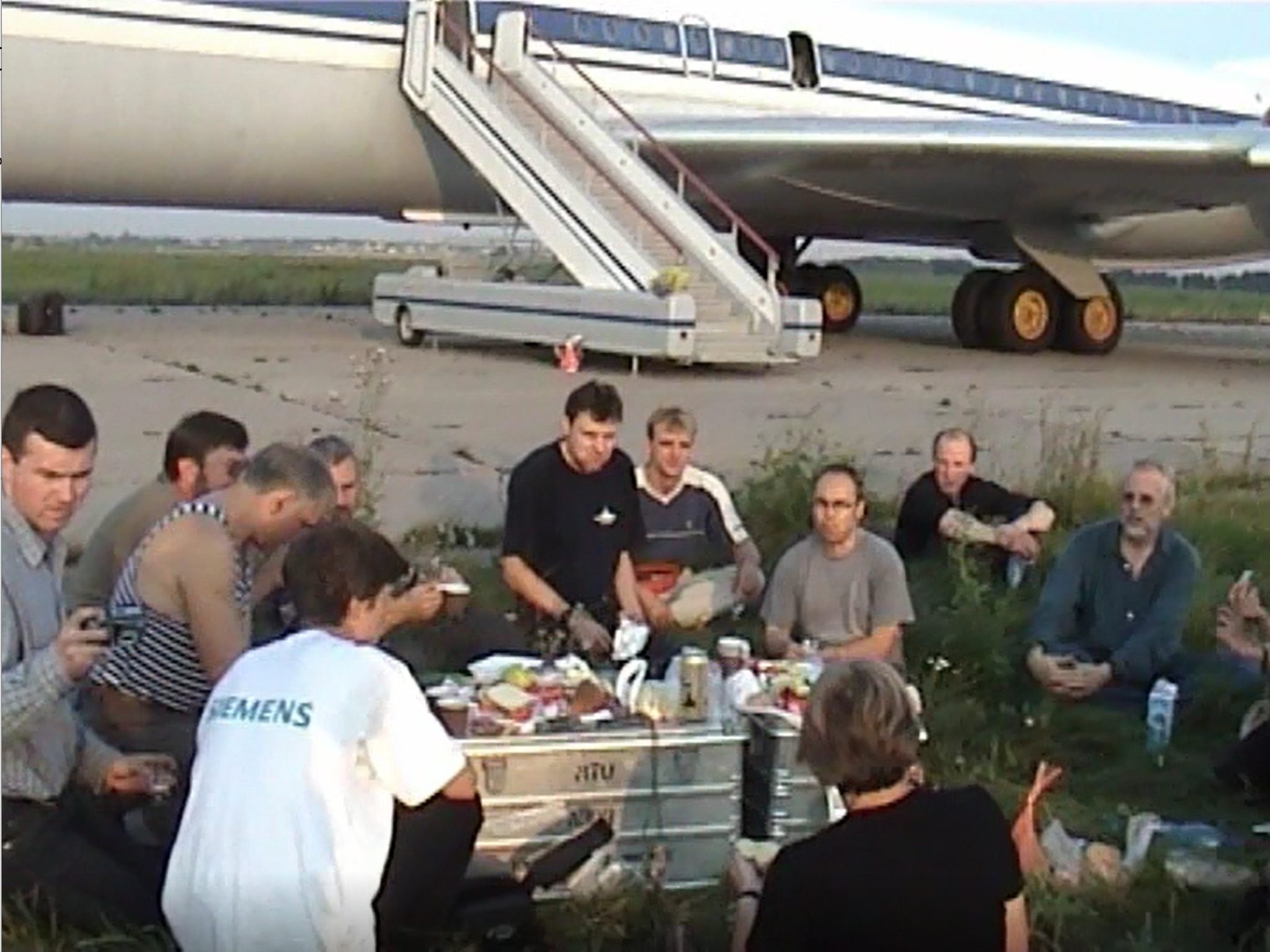 Furthermore, free gas seems to be present in isolated locations above depression within the top of marine permafrost. In the main working area, an older terrestrial landscape could be mapped.
ICDP
A strong motivation for this survey project have been plans for an ICDP drilling campaign to better understand the history and distribution. A pre-proposal had been submitted by Thiede, Bauch, Kassens and others.
Cruise Facts
Duration: 12.09.04 -19.09.04
Vessel: Yakov Smirnitskiy
Participants: Spiess,Zühlsdorff, Schwenk, Vogt
Funding: BMBF
Data sets:
MCS, Hires 50 m 48ch, mini GI Gun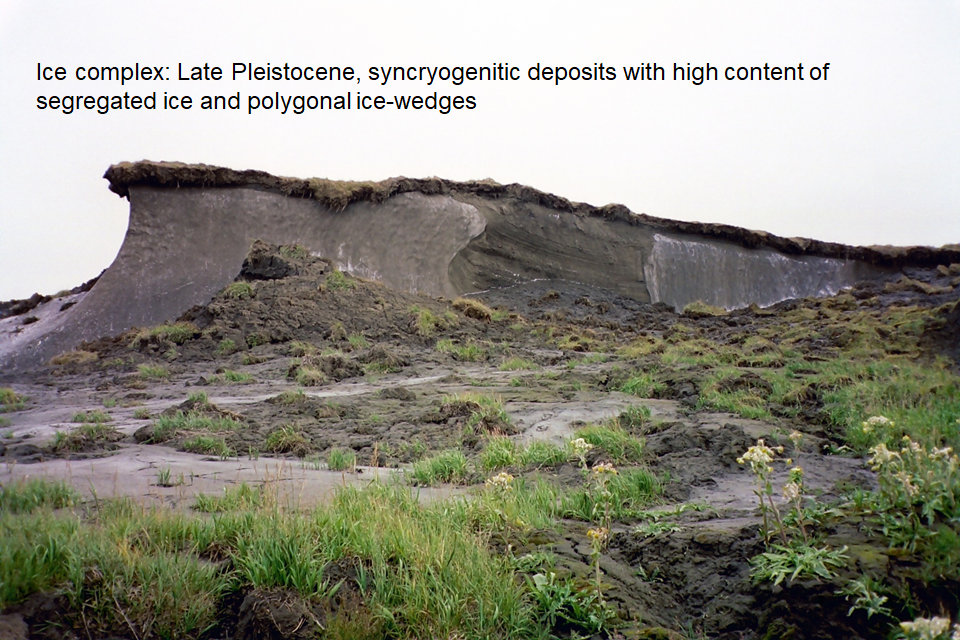 Publications
Rekant, Pavel, Bauch HA., Schwenk T., Portnov A., Gusev E., Spiess V. (2015) Evolution of subsea permafrost landscapes in Arctic Siberia since the Late Pleistocene: a synoptic insight from acoustic data of the Laptev Sea. arktos 1 (1), 1-15, https://doi.org/10.1007/s41063-015-0011-y.

Transect

Wochenberichte
5. Wochenbericht: Laptev-See, 17. September 2004 (15:00 Uhr; 74°30 N, 130°19 E)
Forschung mit Hochdruck Wir befinden uns nach wie vor im nördlichen Teil des Arbeitsgebietes, haben nun aber nach den ersten seismischen Übersichtslinien damit begonnen, das Profilnetz zu verdichten. Trotz des mitunter rauen Wetters und der mit den Wellen schwankenden Datenqualität zeigen die hochauflösenden Daten noch eine ganze Reihe von oberflächennahen, heterogenen Strukturen, die es nun zu interpretieren und eventuell zu kartieren gilt. Auffällig ist vor allem eine recht holperige Grenzflache in einigen zehn Metern Tiefe, bei der es sich vielleicht um eine alte Thermokarstlandschaft oder gar um Eis handelt. Auf jeden Fall warten wir mit Spannung auf weitere geophysikalische Einsichten in die Kältezone unter dem Kiel der "Yakov Smirnitsky". Auch während der verbleibenden Meßtage wird die Seismik immer nur kurze Zeit durch biologische Stationsarbeiten unterbrochen werden. Die nötigen Handgriffe auf dem fremden Schiff haben sich inzwischen eingespielt. Das regelmäßige Aussetzen und Einholen von Streamer und Kanone sind dennoch mit erheblichem Kraftaufwand verbunden, da beides jeweils von Hand über das Schanzkleid gezogen werden muss. Ist erst einmal alles im Wasser und werden Daten aufgezeichnet, müssen jede gute Stunde die Kompressoren betankt werden, damit die Kanone mit ausreichend Luftdruck versorgt wird. Das Betanken erfordert bei Wind, Regen und Seegang ein wenig russische Improvisation, was beinhaltet, das Benzin aus großen Fässern mit Hilfe eines Gummischlauches in kleine Kanister umzufüllen. Dazu taucht man den Schlauch tief ein, verschließt ihn mit dem Daumen und führt ihn schließlich im richtigen Schwung zum Kanister. Den Rest erledigt der Druckunterschied. Ein Hoch auf die Physik.
Laufen die Kompressoren dann, müssen Kanonendruck und Schussrate sorgfältig aufeinander abgestimmt werden. Sonst schießt man nämlich entweder die Kanone leer, oder thermodynamische Gesetze fuhren bei zu großem Druckunterschied zur sofortigen Vergletscherung des Leitungssystems. Und dann hat man wieder Arbeit mit dem Heisluftföhn. Manchmal ist Physik auch doof. Doch solcherlei physikalische Feinheiten sind leicht unter Kontrolle zu halten, und sowohl Mensch als auch Technik verkraften den Dauereinsatz bisher gut. Nur einer der Kompressoren erbrach bei der Schaukelei ein wenig Öl, doch der Doktor sagt, das wird schon wieder. Ansonsten sind alle wohlauf und freuen sich auf das nächste Wochenende, das wir auch diesmal wieder am Meer verbringen wollen. Herzliche Gruse und einen Schwall frischer, kühler Luft aus der Laptev-See senden Wissenschaftler und Crew der "Yakov Smirnitsky".
6. Wochenbericht: Laptev-See, 19. September 2004
Das Wetter ist auf unserer Seite
Nachdem es während der letzten Tage ziemlich ungemütlich war, zeigt sich das Wetter seit Samstag von seiner besten Seite. So ist es ganz zur Freude unserer Offiziere, die unsere "Yakov Smirnitsky" metergenau durch die spiegelglatte Laptev-See manövrieren müssen, fast windstill, und die Decksplanken sind nur noch nachts vereist. Damit können wir unsere Forschungsarbeiten, mit kleinen Unterbrechungen für die Wartung des Schiffsdiesels, rund um die Uhr fortsetzen. Gut so, denn wir haben leider nur noch zwei Tage Zeit, brennende Fragen zu beantworten und Daten über den gefrorenen Meeresboden, ein Relikt der letzten Eiszeit, zu erheben.
Wie ist der vom Dauerfrost geprägte Meeresboden der Laptev-See aufgebaut und wo soll im nachsten Jahr gebohrt werden?
Zunächst konnte man den Eindruck gewinnen, dass es im und auf dem Meeresboden der Laptev-See ziemlich chaotisch zugeht. So ist der Meeresboden in vielen Gebieten von Eispflugmarken durchpflugt, die tief in die Sedimente eingeschnitten sind. Aus der Vogelperspektive, d. h. in den Aufzeichnungen des Seitensichtsonars, lassen diese Zeugen von machtigen durch Wind und Stromung aufeinander gestapelten Eisschollen und kleinen Eisbergen durchaus einen Vergleich mit einem dicht verzweigten Strasennetz zu, und sie geben uns einen guten Eindruck uber die extremen und unwirtlichen Verhaltnisse im Winter, der hier spatestens in zwei Wochen beginnen wird.
Dass hinter jedem Chaos eine Ordnung steckt, haben uns bereits jetzt die ersten Ergebnisse von geophysikalischen Detailvermessungen in eng begrenzten Gebieten der zentralen Laptev- See gezeigt. Diese Profile werden uns ein dreidimensionales Bild des Meeresbodens geben und damit helfen, geeignete Bohrpositionen zu finden sowie die komplizierten Strukturen und den Aufbau des Permafrostes zu erfassen. Dazu muss in die Borddaten unserer Geophysiker allerdings noch viel Schweis und Arbeit gesteckt werden. Herzliche Gruse aus der Laptev-See von den Expeditionsteilnehmern